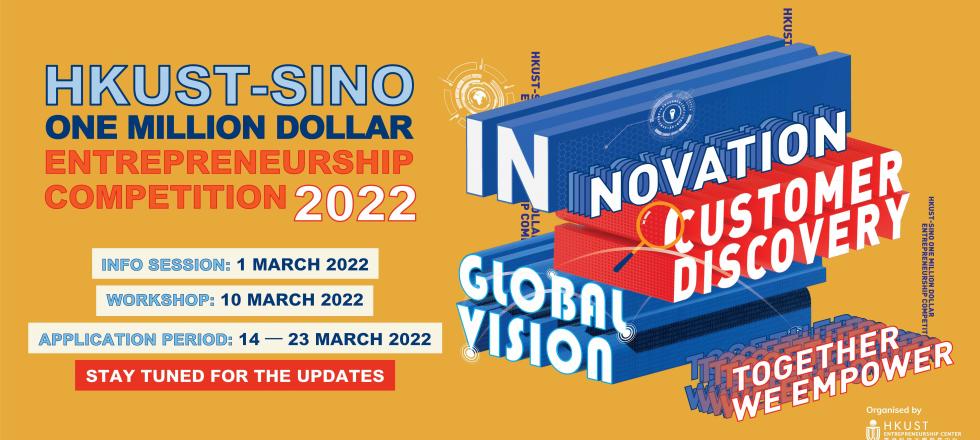 The HKUST-Sino One Million Dollar Entrepreneurship Competition 2022 ("Competition") will be open for application on 14 March 2022.
The Competition aims to provide a platform for HKUST and surrounding community members an integrative learning experience to create and evaluate new business and to prepare students to start their future career in entrepreneurship.  Winners of the Competition can use the cash prize as seed money to build their own company or to further the commercialization of their inventions and scientific researches.   
Alumni and members of HKUST are all welcome to join the competition: The application will be open on 14 March 2022. You may start forming your team for the competition among yourselves and preparing for the first round submission of the 1-min Product Introduction Video (please refers to submission rules for details).
You are also encouraged to register for the online information session to know more about the competition.
 Date & Time: 1 March 2022 (Tuesday), 6:00pm – 7:00pm
Venue: Online (Zoom link will be sent after registration)
Registration: Please click HERE  or the link below to register for the Information Session.
For more details, please visit https://ecenter.ust.hk/events/info-session-hkust-sino-one-million-dollar-entrepreneurship-competition-2022.
Interested in joining the Competition but not knowing how to present and express the innovativeness of your idea? Wondering how to verify your innovative idea? Join us at the workshop while Prof. Sunny Huang, whose research projects tackle problems in online markets and innovation policy, and our alumni Ms. Amanda So, a serial entrepreneur, will be sharing their knowledge and experience on creating business with innovation ideas, making pitches with innovation elements to get more resources and teammates.
Date & Time: 10 March 2022 (Thursday), 6:00pm – 7:00pm
Title: Is it innovative enough?
Venue: Online (Zoom link will be sent after registration)
Registration: Stay tuned for more details on the workshop.

For details of the competition, please refer the official website or contact competition@ust.hk.